OWS Fish & Game Feeder
Manage a better pond and grow bigger, healthier fish with the new Outdoor Water Solutions fish feeder. If you're looking for accurate feeding, less waste and larger, healthier fish, then this one is for you! We've designed a system that has everything you need and at an affordable price.
This feeder can also be used as a game feeder! It can be elevated with the extra leg sections (included) and put along a field edge, in a fencerow or in a food plot to feed deer, quail, pheasants and other wild game in the winter months.
More Info >>
FDR0098 - Price: $289.00
OWS Dry Pond Dye Pack
Environmentally friendly ingredients to help keep your pond healthy and clean produced by specialists at Outdoor Water Solutions Inc.
Each box will treat 1/4 acre with an average depth of 4'. For a 1/2 acre pond 4' deep, you would use two boxes.
Product offered in a 4-color shippable box weighing 23 lbs.
"Natural" product line that helps tie up nutrients in the water.
PSP0001 - Price: $179.00
All Natural Blue Pond Dye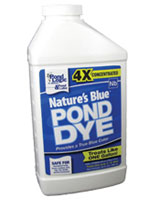 If you're looking for a highly concentrated liquid blue dye for your ponds, we've got it! This product is equivalent to other companies ONE Gallon containers.
Pond Dye helps prevent weeds and algae from growing by naturally blocking out the sun's harmful UV rays. A must have to naturally keep your pond weed free and also add an attractive blue color to your pond. Contains highly concentrated Acid Blue #9 which is safe for recreational ponds, horses, cattle, birds, fish wildlife and the environment.
PSP0125 - Price: $29.95